The snow has long melted, the flowers have bloomed and now that we're in the thick of Ottawa summer, you're soaking up as much sunshine as...
There's nothing more disappointing than spending some – or all – of your summer holiday in the hospital recovering from an injury. Especially if...
Sitting poolside is something you've waited quite a long time for after this brutal winter. But just because you're in a summer state of mind...
If you've never had any sort of an accident, then anything related to personal injury and the legal process is likely news to you. This isn't...
Unfortunately, hit and run accidents are quite common. If you've ever parked your car in a parking lot and returned to find a new scratch or dent...
Spring is here and as you know by all the flooding, the seasonal melt is messy, and in some instances, dangerous.  Every year, many people are...
Every year thousands of Canadians are injured from vehicle accidents alone. According to Transport Canada, the number of collision related...
After an especially cold and harsh winter, residents in the Nation's Capital can finally breathe in that sweet spring air! And now that winter is...
Using your own two feet to get around the city is an easy way to reduce your carbon foot. You also get to reap the benefits of enjoying some fresh...
Living in Ontario has many upsides, including: gorgeous lakes and scenery, many large and small cities rich with history and cultural diversity...
Many people rely on public transit as their main mode of transportation. Not only is it less expensive, it can also be much more convenient...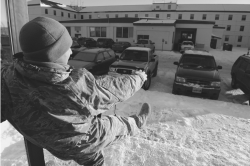 Despite the freezing temperatures and shorter days, there's no doubt that winter has a lot of great things to offer. However, getting...